This weekend, three academic workers and UAW 2865 members at the University of California San Diego were arrested in retaliation for union activity. The University has continued to repress union members, notably bringing code of conduct violations against 67 workers last month, as it refuses to adhere to the contract these workers won in a strike last year.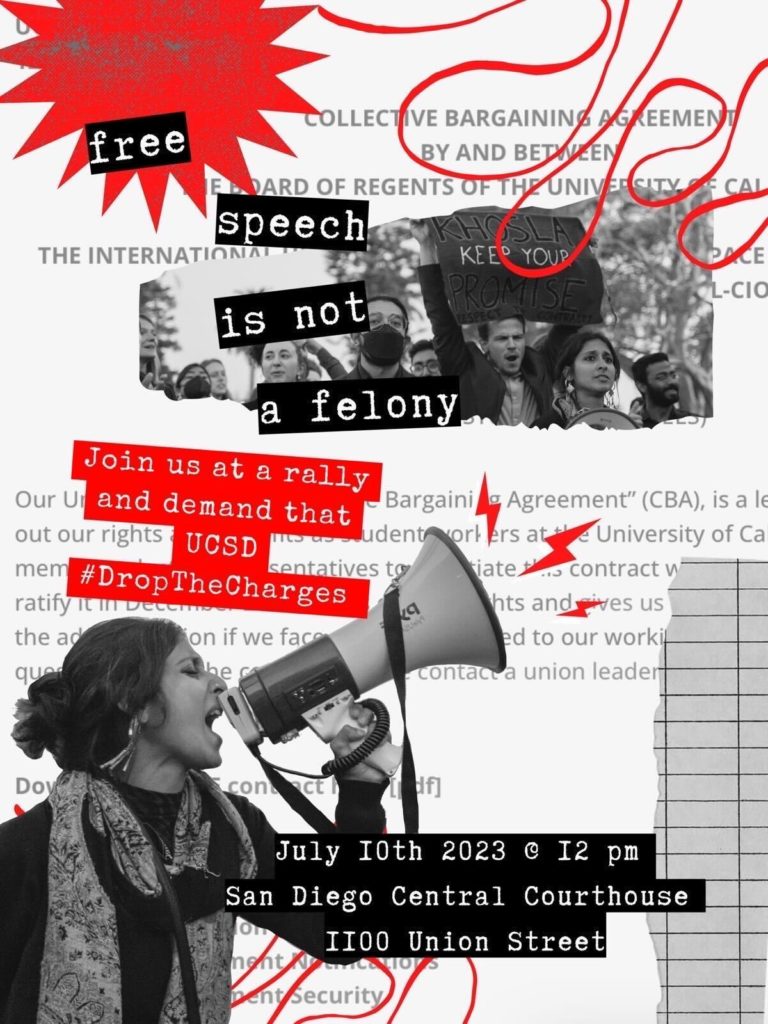 The San Diego chapter of the Democratic Socialists of America denounces in the strongest possible terms the actions by the UCSD administration that led to these arrests, and calls on the University to drop the charges and to adhere to the signed contract.
In the time since the strike, the University has reneged on the legally binding contract that workers won, and has refused to fulfill its obligation to pay its workers properly. Instead, the University chose to have three academic workers arrested in order to stamp out dissent to the administration's unlawful behavior. By making these arrests, the University is using the campus police force exactly as it was intended to be used — not to promote safety, but rather to harass, intimidate, and suppress workers simply demanding what they were promised.
These arrests represent a shocking escalation of repression and union busting by the University. It is clear that it will take further struggle on the part of the workers — not only to cease the repression and drop all charges, but to force the University to finally comply with the contract. DSA San Diego membership stood with the UAW on the picket line in Fall 2022. Should they choose to strike again, we will stand with the workers once more and support them for as long as it takes to win. We will mobilize the full force of our membership to the picket lines if that is what it takes.
Finally, we call on our membership to attend the UAW rally on July 10th at noon at the San Diego Central Courthouse to show our support for the union and the three workers unfairly targeted with state repression.